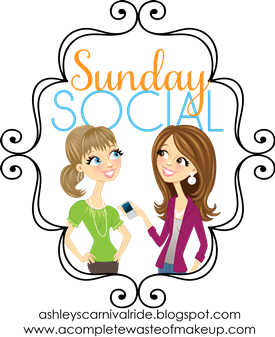 Is anyone else still worn out from all that celebrating we did a couple weeks ago? I'm still trying to get back in the swing of things! My house still looks like it's been hit by the Toy Tornado, but at least the tree is gone.
Here are this week's questions!
1. Do you plan to change any of your eating habits in the new year?
Yes! Especially since the last couple of months have been filled with nothing but holiday treats...I always eat salads and we grill vegetables and fish or chicken at home. There's always room for improvement, so I want to stop eating out and add some change to my wallet as well as my eating habits!
2. Any work out tips to get us back in shape after the Holidays?
Portion control is the most important part of eating at all of those work parties or family meals, so I think that if you don't go crazy, and stay active, you will be okay! I love walking and taking the kids out when the weather is nice, so our jogging stroller is awesome, but there is so much you can do in your home! I think as long as you get off the couch and drink lots of water, you will start seeing positive changes.
3. Favorite thing you did of the Holidays?
Every night we could, we took Chandler and Jake out to look at Christmas lights. They loved getting to see the pretty displays and the occasional Christmas cookie that we let them enjoy while we were out. I really enjoyed getting to spend some much needed time with all of our family. The Hanging of the Greens at my aunt's church is always a fun night to start off the Christmas season. It's also a great spot to possibly get a picture for our Christmas cards :)
Here's the 2 seconds they both decided to look at me.
Our favorite trees this season!
Skip got a major surprise at his Christmas party for the Fire Department this year. He had no idea that he was going to be named Firefighter of the Year and from the picture below, you can see how excited he was! I'm so proud of him!
Sorry it's a little blurry, I had no idea they were doing this and didn't bring my camera! These are pictures that someone sent to us.
Here is Chandler and Jake's official Santa photo for 2012! We've always gone to the Santa at Phipps, so I'm just a little partial to him, but I do think he is by far the prettiest Santa in all of the land!
We had lots of fun hanging out with friends this year! Chandler and her friend Hadleigh are 4 days apart and they love each other so much!
My little elves were so patient on Christmas Eve. We were sad that Skip was on shift, but Santa stopped by and we were so glad that he got to spend Christmas Day with everyone!
The craziness that arrived! Any tips on toy organization would be greatly appreciated!
Skip surprised me with an awesome gift that he picked out all by himself! I must brag a little and show these beauties off! I'm officially obsessed!
4. What is something you hope that you accomplish in 2013 that you did not in 2012?
I would love to regularly participate in 5K's...I think that I need to find someone who is really interested and can hold me accountable for doing the work. It's always easier when you have a friend to participate with you!
5. Name 3 things happening this year you are excited about and why:
Jake turns 1 on February 9th, and I'm already in party planning mode. I love getting everything organized and made and then seeing how great everything comes together!
Skip will be turning 30 on May 20th. I can't wait to see how we celebrate!
I'm already looking forward to our annual beach vacation in August!
I hope that everyone had a happy Holiday season and got to spend a lot of time with those you love! I'm glad to be back! Sorry for such a long but needed break!
Here are the questions for next week:
1. What is the name of your blog? How long have you been blogging?
2. Why do you blog?
3. What is the first blog you ever followed?
4. What is your favorite post you wrote in 2012?
5. What are your blogging goals for 2013?
6. Top 3 favorite blogs to follow?
Have a great week everyone!