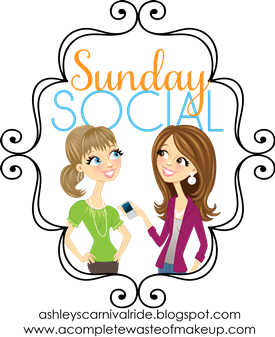 This week the Sunday Social is really special. We are supposed to share what we are most thankful for. There are so many times that I get caught up in my day to day routine, that I forget to take a step back and look at how blessed I am. I find that I stress myself out about things that don't even matter. I also have found that spending time with the ones you love will make all the difference.
I'm so glad that I have someone who supports me and is there for me no matter what. Skip and I have been together practically forever, and he always makes me feel so special...
I'm also so thankful for my sweet babies, Chandler and Jake. They keep me so busy but I wouldn't have it any other way. It's amazing how your life can change in 2 1/2 years. I don't even remember what I used to do with all my free time before they came along! I'm also so glad that they are so close in age. They have so much fun together and are already best friends!
My brother and I have always been close. I'm so glad to have him in my life. He is always there with a sarcastic comment that can put any situation into perspective. Being the big sister, I don't feel bad about putting him in his place from time to time. :)
I have the best girl friends that anyone could ask for. No matter what, they are there. It's so awesome to have these wonderful women in my corner. I cherish all the great times we've spent together over the years.
Thanks to all you guys for letting me share some of my favorite people and pictures with you! I hope that you all have a wonderful Thanksgiving spent with all of the people that you love!
Next Weeks Questions:
1. Name 4 jobs you've had in your life.
2. Name 4 movies you would watch over and over.
3. Name 4 places you have lived.
4. Name 4 of your favorite foods.
5. Name 4 things you always carry with you.
6. Name 4 places you have been on vacation.